Corporate event planning is a big undertaking – even for the most experienced event planner, especially with virtual and hybrid events now the norm.
Finding the right venue that caters to all of your needs is not always an easy task, but with Absolute Venues, we offer a stress-free way of finding your perfect venue for free.
We've put together all of our corporate event planning tips to ensure no matter what type of event you're hosting, your guests have the most memorable experience.
So, let's get started…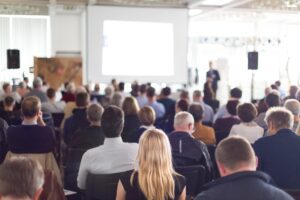 What is corporate event planning?
Corporate events are events run and paid for by businesses for various people. Of course, these events will vary in scale – and that's where corporate event planning comes in.
With a professional event planner, such as Absolute Venues, both the big and little things are taken care of – from finding the perfect venue for your event, ensuring guests have adequate accommodations and transport, to activities and much more.
Types of corporate events
Now, when it comes to corporate event planning, you'll typically find two categories: internal and external events.
Internal events
As the name suggests, internal company events are just for employees – however, this doesn't mean they should be any less impressive.
Internal events can be incredibly varied. Sometimes, you may not even realise you're holding an internal event. Examples include:
External events
External corporate events are fantastic opportunities to get your brand out there.
Where internal events focus on bolstering the inner workings of your business – think team morale and upskilling employees – external events are typically networking opportunities designed to boost business, brand awareness, and ultimately revenue and connections.
Examples of external events are: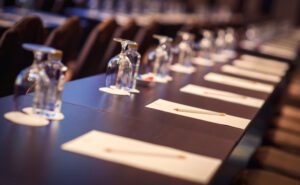 Who's your event for?
After you have figured out what type of corporate event you are hosting, you can then organise your guest list. With our modern society, you have more options than ever before for anybody to attend your event – no matter where they are in the world.
And when we say anybody, this has never been more true with the rise of virtual and hybrid events. A wide range of corporate events are now available for planning, either in a hybrid format or in-person – and at Absolute Venues we will be able to assist.
When creating your list of guests, it's important to decide the scope of your event, and whether the location of the event could impact attendance. We'll work our best to accommodate travel arrangements – even overnight hotel stay if required – or alternatively take you through your hybrid – or strictly virtual – event options.
Finding your corporate event venue
We all know the venue is one of the main parts of a successful event – however, it can also be one of the most stressful aspects of the event planning process. That's where we come in.
With over 80 years of experience, Absolute Venues can find you the perfect venue for an unforgettable event. With packages available for groups from two to 2,000, and locations across the globe, our free venue finding service is the stress-free way of choosing a venue.
Just tell our friendly team the number of attendees and facilities required, and within an hour, we will call you to discuss your event. Our experts will give you a shortlist of venues that have been chosen to meet your specific needs to ensure your corporate event is a success.
We have a fantastic relationship with our event partners. Due to this, we'll be able to offer you an exceptional discount on your booking. The money you can save by booking through us gives you more budget to spend on other aspects of your event.
Budget for your event to go wrong
This may sound like bad advice, but budgeting for aspects of your corporate event to go wrong is one way to ensure you don't go over budget and have plans in place – in case you run into any hiccups.
If everything runs smoothly, then you will likely impress your employer as you'll have leftover money and had a successful event. If not – perhaps you've underestimated how many guests will be attending or wish to upgrade certain parts of your itinerary – you'll still have funds to dip into. It's a win-win for everyone.
Deciding the event aims and agenda
Once you have secured the location, you can then design your event agenda to meet the aims of your event. For example:
Do you want to celebrate another year of success?
Are you raising awareness and money for a charity?
Do you plan on informing people of a new product launch?
Most events tend to have some form of keynote speech and catering, but if you decide you want certain interactive segments like a Q&A or breakout rooms, your venue will have to be able to meet these needs.
The friendly team at Absolute Venues can help you find a venue that can meet all of your needs, including separate rooms and outdoor spaces.
Hybrid and virtual events
Since the COVID-19 pandemic, hybrid and virtual events have become the norm and it doesn't seem like things will change back. This has made corporate event planning slightly more complex as now there are additional things to plan for, such as filming and audio.
You want to make sure even virtual attendees have the best experience, and at Absolute Venues, our hybrid services come at no extra charge – you only pay for the venue booking and the services.
We can ensure no matter what type of event you are hosting, it's an amazing event for every type of attendee.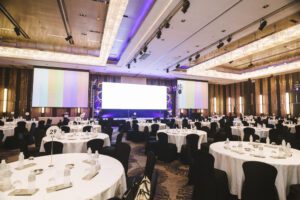 Contact Absolute Venues today to find your corporate event venue
The team at Absolute Venues are experts in finding the perfect venue for any type of event. Our services are tailored to your every need, always ensuring that each venue is your perfect space.
For help finding your venue, get in touch with Absolute Venues today. Please call 0161 929 2948, email [email protected], fill out our enquiry form, or use the chat icon to speak to one of our experts.