Venue Finding Services Oxford
Tired of searching for a venue that fits all your requirements, your budget, and is in the right location? Venue finding can be a long, complicated and overwhelming process. Luckily, Absolute Venues are here to help you out.
We offer a unique and free venue finding service, to help you save time and money while you secure the perfect venue. We'll search across all of the best venues in Oxford to find you one that's ideal for your event.
When you search with Absolute Venues, you'll receive a shortlist of venues we think are suitable for your needs. You can choose from the shortlist and we'll arrange a viewing if you'd like one – and we'll do all of this entirely for free.
How do we do this? We've been in business since 2002, working with the UK's best and most trusted venues. We now have a directory of over 160,000 venues, and we'll use these connections to find you the best venues in the Oxford area. We'll look at conference centres, meeting rooms and function rooms to secure an excellent venue for your corporate event.
But how can we possibly offer such a comprehensive service free of charge? We've built a brilliant reputation over the years as one of the UK's leading venue finding services. All the venues we work with are trusted by us, and we have strong relationships with venues across the UK. This means that venues pay our referral fee – and this means that we don't need to charge you a single penny for the service.
Hard as it is to believe, when you book with Absolute Venues there's a good chance that you'll actually save money searching for your venue – all while receiving an excellent and comprehensive service. This is because of our reputation, which means that many venues we work with actually offer discounts on bookings made through us.
Express Venue Finder
Request a call back - 1 hour response time
Our Services
Oxford is a beautiful and varied city with a range of different venues available to you. We can find venues for corporate events of all kinds in Oxford, including:
Why Choose Oxford For Your Conference Or Corporate Event?
Oxford is a great place to hold your conferences and business events. The city is bursting with history and culture – where else could you hold your event in a space once shared by the likes of Oscar Wilde, C S Lewis and many more? Every street and corner of Oxford has great history behind it, giving your delegates a rich place to explore in their time off.
There's a wide range of different venues available in Oxford. From the modern to the traditional, the City of Dreaming Spires is known for its wonderful architecture. If you want to host your event in a beautiful and historic building to give your delegates a memorable time, Oxford is a fantastic choice.
Oxford is known for inspiring generations. The University of Oxford has seen 26 Prime Ministers passed through its classrooms, and 50 Nobel Laureates work or study in its halls. Some of the world's most recognised writers, thinkers and scientists have been inspired to greatness by the beauty of Oxford.
Oxford is surrounded by the gorgeous Oxfordshire countryside. Bringing your delegates to Oxford for your event means bringing them somewhere historical and beautiful, scenic in the extreme with countryside to explore all around. For an event that you won't forget, with prestige and beauty, choose Oxford.
Travelling To Oxford
Oxford is in the heart of the UK and it's easy to get to from all directions. Whether arriving by road, train or plane, there are plenty of transport options to and from Oxford city centre. Getting your delegates to your Oxford event is quick and easy.
Getting from London is simple, because there are fast train and coach services linking the cities. The M40 connects Oxford both to London, and Birmingham and the North West. The A34 also ensures easy main road access to the city.
While parking can be problematic in Oxford, the city boasts one of the best bus services in the country. The park-and-ride in Oxford is actually the UK's original service of that kind. It's used all the time by people travelling to the city centre, running often and efficiently.
London Heathrow is the nearest international airport to Oxford. Oxford is linked to the airport by a dedicated coach company that runs 24 hours a day, 7 days a week. Oxford is also connected to Birmingham, Stansted, Gatwick and Luton airports as well!
By rail, there are frequent trains between Oxford and London Paddington, and Birmingham New Street.  With connections throughout the Midlands, you can get to Oxford from anywhere in the country by rail.
How We'll Find The Perfect Oxford Venue For You
Planning a corporate event? You've probably got a crystal clear idea of what you perfect venue looks like. Share that image with us, and we'll help you find the real thing.
Tell the team here at Absolute Venues your entire criteria for your venue and we'll set to work finding you the best that's out there. You'll receive a shortlist that we put together of suitable venues, which you can then choose from. Every venue we work with is fully equipped to host business events and conferences, so you know that the venues we recommend are all viable choices.
We invite you to visit any of the venues we recommend. We know that visualising an event can be hard, and seeing a venue in person can often sway the decision. So, if you're intrigued by one or a number of our venues and would like to see more, just let us know and we can arrange something.
Since 2002, we have worked with the best venues the UK has to offer. We now boast a directory of over 160,000 venues across the country, all of which are trusted and reputable partners. When you choose your venue with Absolute Venues, you know that it's been specially chosen from a huge pool of different potential venues in the Oxford area.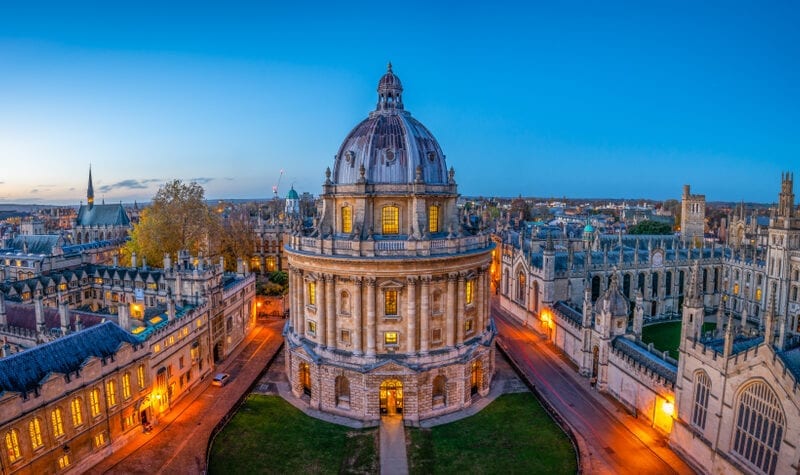 Contact Us Today To Find A Venue
Want to find the perfect venue for your corporate event? And save time and money doing it? Well, get in touch with us today on 0161 929 4948 to find out how Absolute Venues can help you do just that. Our unique free venue finder service is ready for you to use – find an amazing venue in Oxford today!