Venue Finding Service In Nottingham
If you've ever looked for a venue by yourself before, you probably know how stressful, confusing and time-consuming it can be. We're here to help.
Here at Absolute Venues, we offer a completely unique and free venue finder service. Our service is designed to take the weight off and give you less to worry about while you're planning your event. When you give us all your needs and requirements for the event, we'll go and use that alongside our own experience and expertise in the industry. We'll curate a shortlist of venues suitable for your event, picked from the finest the UK has to offer.
The best part? Our unique venue finder service is completely free. That's right – we won't charge you a single penny. But don't let that make you doubt the quality of venues we have on offer. We work with a lot of venues in the Nottinghamshire and East Midlands area, and every single venue we work with is privately and professionally owned and operated.
We're only able to provide this unique free service because of our extensive experience in the industry. We've managed to build up a reputation as one of the UK's leading venue finder services. We also only work with venues that we personally trust and have a good relationship with. What you might find is that some of our venues actually offer you a discount for booking through Absolute Venues. It may be hard to believe, but it's true: by coming to Absolute Venues to search for your venue for you, you might actually save money!
Express Venue Finder
Request a call back - 1 hour response time
Our Services
We have experience finding venues in Nottingham for many different corporate events, including:
How We'll Find The Perfect Nottingham Venue For You
You know what you're looking for. Now, all you have to do is let us know too. How many people are you expecting? What date are you aiming to hold your event on? Is there any particular kind of venue you'd like to book? Answer those questions for us, and we'll do the rest.
When we have a good idea of what you're looking for, we'll put together your shortlist. Your shortlist will consist of all the best matches that we could find, according to your criteria. And don't worry: every single venue that we recommend comes with good facilities on-site and is suitable for business events and conferences.
Still not sure that the venue we've recommended is right for you? That's ok. We invite all of our customers to visit and see any of the venues in person before making a decision.
Here at Absolute Venues we're proud to claim a directory of over 160,000 venues across the UK. That means you can be sure that when we shortlist a venue for you, it's been specially chosen from a very large pool of potential venues. We've worked with top-quality and luxury venues since 2002, and we have all the connections necessary to find you the best venues available in Nottingham and the East Midlands.
Why Choose Nottingham For Your Conference Or Corporate Event?
Nottingham has a global reputation for being one of England's most historical cities. The home of figures like Robin Hood, DH Lawrence and the poet Lord Byron gives it a culture and past worth exploring. Delegates love visiting Nottingham for corporate events and conferences because there is so much to see and do.
Heart of Nottinghamshire and the East Midlands, Nottingham is also a commercial city that continues to thrive. Because of its location, connecting the east of the country from London all the way to Edinburgh, it sees a lot of corporate business. There's a wide range of conference venues, function rooms, meeting rooms, wedding venues and more on offer.
Nottingham has a reputation for inspiration, and the extensive range of different conference venues gives you the opportunity to try and inspire your guests as well. From historical listed buildings to modern venues with state of the art facilities, Nottingham has venues to suit any of your event needs.
It's really no surprise that Nottingham is used so often for events and meetings. Not only is it a great accessible location for delegates from around the country, but it's also consistently named one of the UK's best cities to visit. There's a lot to do in Nottingham, making it a great place for delegates who are coming from afar and need to stay overnight. If you're team building or just want to liven up your event, there's plenty to choose from.
Consider giving your guests a unique and memorable time in Nottingham. There are Robin Hood tours, some of England's oldest pubs, and the Creative Corner to see. The Creative Corner has the Castle Museum and the Lace Market, a site representing Nottingham's history as the centre of the lace industry!
Getting To Nottingham
Nottingham is one of the largest cities in the East Midlands, and lying at the heart of Nottinghamshire means that you can easily get to the city from anywhere else in the country. Whether your delegates are arriving by train, car or plane, travel is straightforward and simple to organise.
Nottingham is very close to the M1, A1, A52, A46 and M/A42, making the city easily reachable by car or coach. If you're taking the M1 northbound coming from London or the southeast take Junction 24/25. If coming from the north, take Junction 25/26 on the southbound carriageway.
East Midlands Airport is only about 15 miles south-west of Nottingham, linking the city to locations across the UK and abroad. The airport handles about 4.5 million passengers each year and a Skylink bus service runs between the airport and the city centre every half hour.
If travelling by train, you can travel directly from London St. Pancras to the centre of Nottingham. There are also connecting trains from Derby, Leicester, Leeds, Crewe, Birmingham and Sheffield. Taking the train from Nottingham down to St. Pancras gives you access to the Eurostar, opening up international travel for your delegates.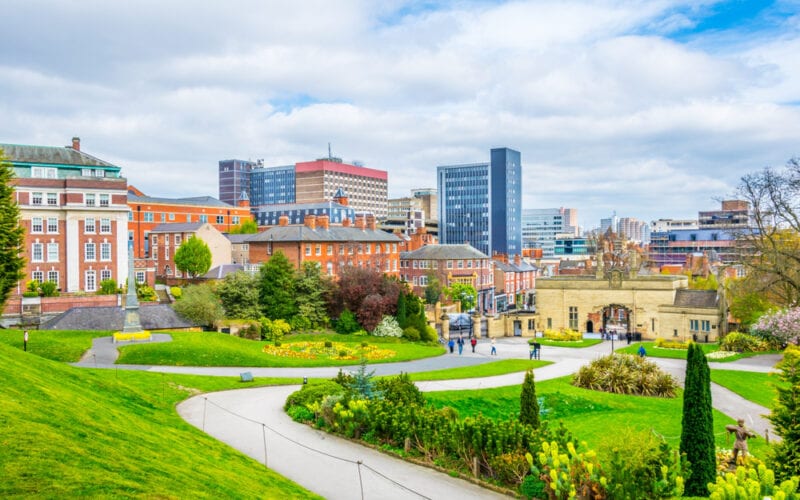 Contact Us Today To Find A Venue
If you're interested in our completely unique free venue finding service, please get in touch with us on 0161 929 4948. We'll put together a shortlist unique to you. If you feel you want more guidance after that, we'll be on hand to help and arrange for a free visit if needed. We're excited to find you the best venue for your Nottingham event!