Looking to host a conference event in the booming city of Manchester? Manchester is a thriving destination, with a wide range of incredible venues accessible for events of all shapes and sizes. Known for its mix of historical and modern structures that are scattered around the city, you're truly spoilt for choice when it comes to Manchester conference venues!
If you're sick of spending a lifetime looking for the perfect venue for your next event only to discover that everything is already booked or too expensive, our Manchester venue finder tool can help you. By using Absolute Venues to identify the most suitable conference venues in Manchester, you could save yourself a great deal of time, money and effort. 
For a quick overview of Manchester's venue offering, let's take a look at what the Northern metropolis has to offer.
Top 12 Manchester Conference Venues
With Manchester positively thriving for corporate event hire, narrowing the list down to 12 was tricky. However, we got there, delving into the experience of our event planning team to showcase some of the city's finest venues for hosting business events.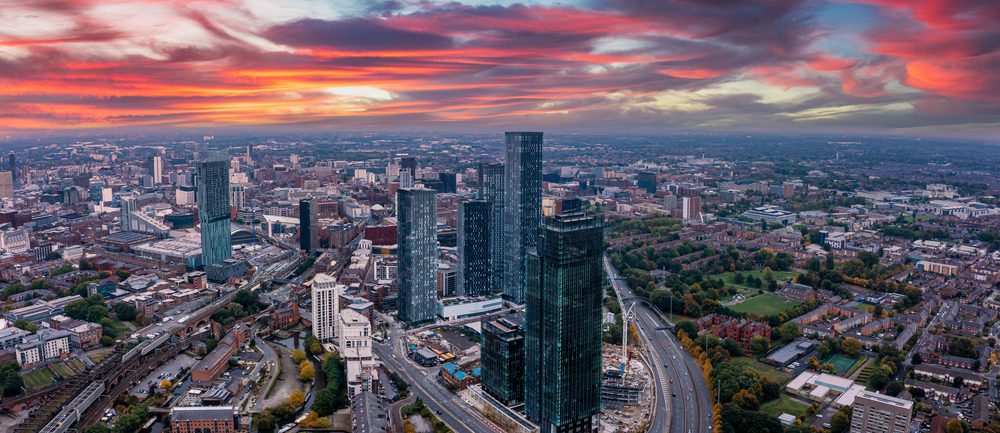 Let's take a look…
1. Manchester Conference Centre at Pendulum Hotel
Piccadilly Station is just a 5-minute stroll from this conference hotel, and Canal Street and Chinatown are nearby too – they're all easily accessible on foot. 
A part of Pendulum Hotel Manchester, this outstanding central location offers accommodation as well as the annual meeting and conference facilities, built for a range of event types and purposes. 
The Manchester Conference Centre is a venue that can suit all conference, meeting, and event demands thanks to its 15 immaculate meeting rooms and exhibition space. 
If you're looking for a flexible space in Manchester, where accommodation is also catered for during your conference, this is the perfect space for you.
2. Manchester Central Convention Complex
Situated in the very heart of Manchester, this event venue is a purpose-built space for hosting a range of events – from corporate events and exhibitions to expos and meetings – in their exceptional meeting room facilities. 
Among the abundance of city centre venues, none compare to the Manchester Central Convention Complex – events of all kinds take place at this venue which was once the Manchester Central railway station. 
With several flexible layouts, you can host a small, medium or large conference, and the choice of rooms is almost infinite. We believe this is one of the most state-of-the-art, contemporary venues in Manchester City and is without a doubt an atmospheric location.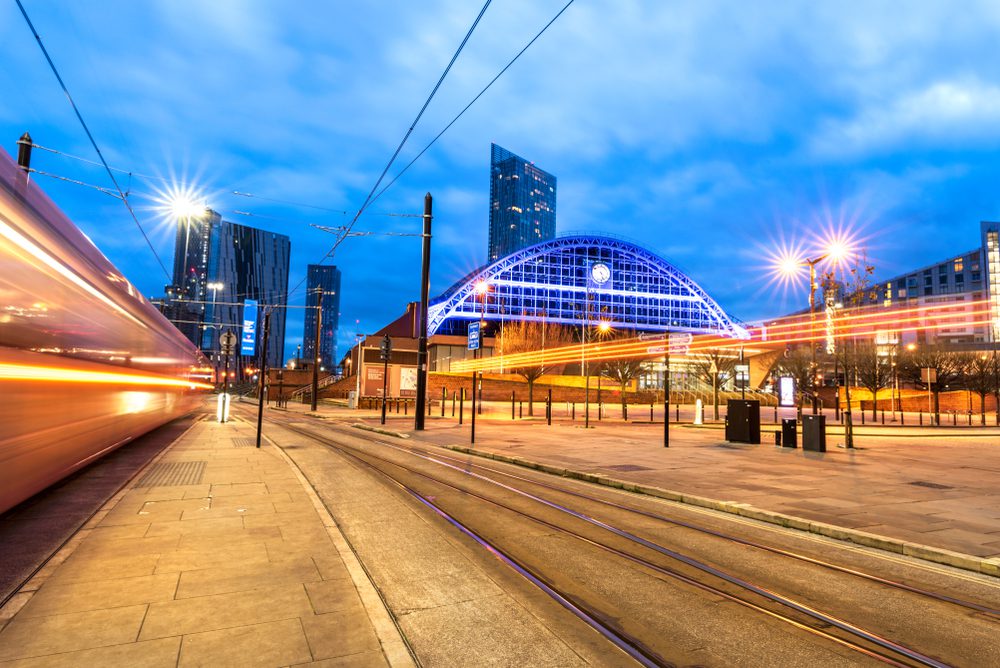 3. Concorde Conference Centre
Step aboard the Concorde Conference Centre at Manchester Airport and watch your conference event really take off – we mean it. 
Your coworkers and those attending your conference will have the conference of their life, eating dinner beneath the famed Concorde plane's wings. 
A distinctive and extraordinarily adaptable venue for conferences, exhibitions, product launches, and events with a banquet-style layout, the Concorde Hangar is an excellent space in Altrincham. 
The Concorde Hangar has seating for up to 700 people, sufficient air conditioning, advanced lighting and access to the M1. 
This is undoubtedly among the most amazing spaces for conferencing in the North of England, let alone Manchester. 

4. Trafford Suite 
Trafford Hall Lounge is a stunning venue and an ideal space for corporate meetings and business conferences in Manchester. This is the perfect co-working space for board meetings, interviews, training sessions, and conferences. 
On-demand, audiovisual equipment could be provided if you request it, and day-delegate options are available should you need them. It is even possible to arrange breakfast, tea breaks, working lunches, and dinner plans for attendees of your event. 
This venue is up there with some of the most affordable conference venues if you want everything from food and drink options to digital tools and equipment. 
Plan your next conference event at the Trafford Hall Lounge with Absolute Venues!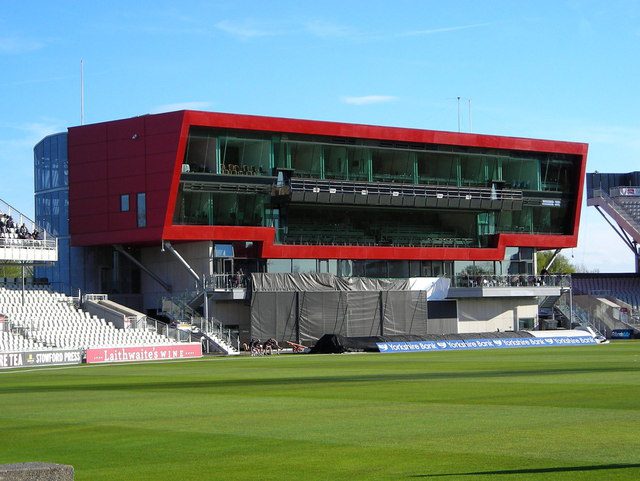 5. Science and Industry Museum
The Science and Industry Museum offers a unique and captivating setting for business conferences and events thanks to its intriguing galleries, historic architectural buildings, and impressive conference centre – it's all you need for a remarkable meeting venue with a distinctive backdrop and varied layout. 
This spectacular venue is located on the site of the world's very first inter-city passenger and goods railway line, which makes for an interesting space. It's one of the best art and galleries museums in the city, so hosting your next conference here is a pretty big deal! 
The People's History Museum is another Manchester confer
ence venue you may be interested in.
6. Hilton Deansgate
Located in the colossal, 46-story Beetham Tower, a variety of cutting-edge technological tools are available in this classy boardroom to support seminars and presentations. For capacity, executive meetings, conferences, and lectures for up to 50 people can all be held at Hilton Deansgate. 
The 23-story hotel and conference venue is located in the centre of the city and offers views of the Manchester cityscape. It's only a mile from Manchester Arena and Piccadilly Station, while it's also surrounded by an array of galleries, shops, and eateries. 
Did we mention the ultra-modern boardrooms are the highest in Manchester? This is surely the perfect venue for conferences in an adaptable space – a culinary option is also available from the Cloud 23 bar.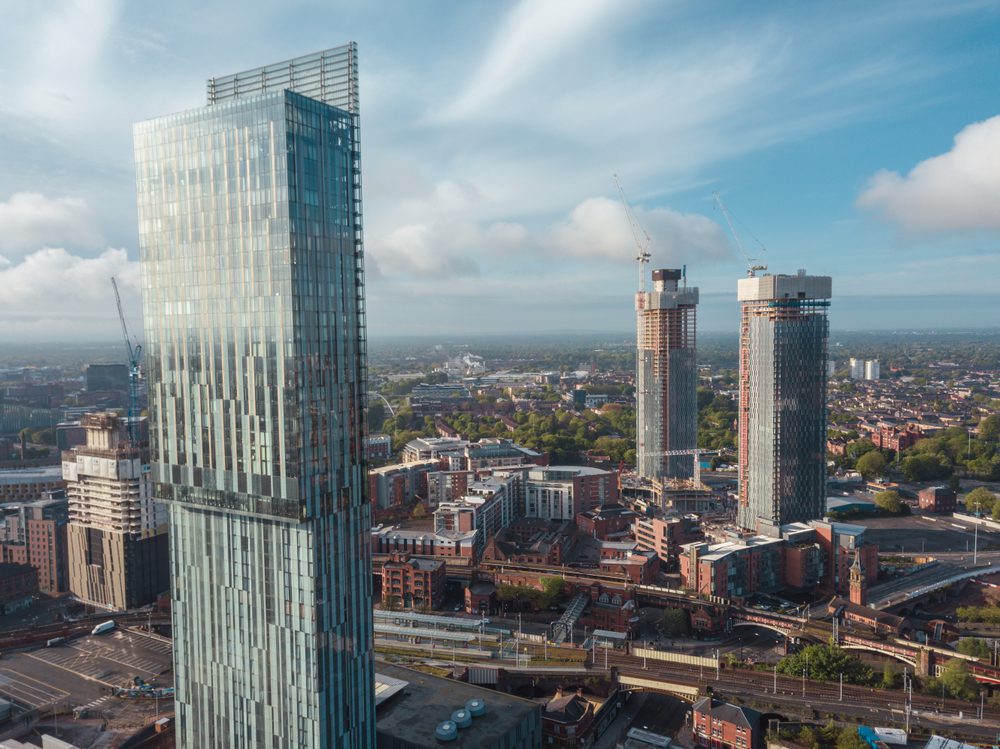 7. The Edwardian Hotel
The Edwardian, an adaptable venue in Manchester's city centre, can accommodate both large and small conference events. 
The facility has 20 distinct rooms, which are each decorated with their own unique style and boast a wealth of natural lighting. The Hallé, their largest room, can accommodate 500 people at a time. 
The hotel demonstrates its adaptability by giving you all you require for the success of your event. At business conferences, the hotel can arrange breakout rooms and catering, as well as any other essential equipment.
8. Chamber Space Manchester
There are a variety of event spaces in Manchester, but Chamber Space is a standout for class and convenience. 
Sixteen meeting and conference rooms are available in this hire space, making it ideal for accommodating a variety of corporate events. 
Chamber Space places a high value on comfort and privacy, which is why they provide soundproof meeting conference rooms to ensure the confidentiality of your discussions. 
Up to 180 people can be accommodated in their sixteen rooms, and because the venue is located in Manchester's city centre, it is easily accessible to all visitors via numerous modes of transport.
9. Crompton Suite
Crompton Suite is an extremely affordable and adaptable space for hosting conferences in Manchester. It is a modern conference room that has recently undergone a major renovation and can hold up to 30 attendees, thus making it a great space for smaller conferences in its classroom layout. 
With the most latest technology and equipment, The Crompton Suite is fully compatible with all devices and offers a full hybrid solution through video conferencing.
10. Hotel Brooklyn
Hotel Brooklyn is a magnificent hotel with chic business suites that are situated at the centre of Portland Street in Central Manchester, only a short distance from Piccadilly Station. 
It's a rather stylish venue and a great space for registration too.
11. Whitworth Locke
Whitworth Locke is located in the heart of Manchester and is home to 4 unique and decorative event spaces, which serve as great venues for conferences and business events. 
These four event spaces include The Storehouse, Green Room, Yellow Room and the Coworking Lounge.
12. University Conferences and Venues
Want to host a conference or event at The University of Manchester or Manchester Metropolitan University? The universities have some fantastic conference venues available at certain times throughout the year.
The Chancellors Hotel is three miles from the city centre and offers room for conferences, team-building events, and even outdoor events. During academic breaks, University Place and the Renold Building are open for major business conferences.
Discover the perfect Manchester conference venue today!
Our free Manchester venue finder service is designed to minimise the stress, time and costs of planning an event on your own. 
Our team of experienced planners have a wealth of expertise and knowledge when it comes to finding the best hotels and conference venues in Manchester, which is why we are the number one venue directory for you. 
Just visit our events venue finder or get in touch today!