Stay up to date with official guidance
Ever since the coronavirus reached the UK, we have been in a fast moving and always changing situation. Here at Absolute Venues, we understand that nobody can see into the future, which is why it is more important than ever that event planners stay abreast of all the official government advice and guidance in regards to COVID-19 and the appropriate measures that must be taken.
No one truly knows how the COVID-19 pandemic will affect the event industry beyond 2020, but the likelihood is that the effects will be long lasting and far reaching – how we conduct, plan and host live events will be different for the foreseeable future. As event professionals ourselves, we know how frustrating this is. The only answer is to dedicate time towards keeping completely up to date with official guidance as and when it changes.  
Keep communicating – both with your attendees and your venue
Trust is going to be a huge factor when it comes to the event experience in 2020 and beyond. As an event planner, you need to be able to trust your venue, and your attendees need to be able to trust you. In light of this, it's a brilliant idea during these uncertain times to keep everyone up to date with what's happening and what they should expect from your event. 
Event marketing and event management software can help you to communicate with your attendees. Your event website should be incredibly informative and clear. Everything from blog posts and social media posts to scheduled email alerts and notifications can help you to give your attendees a clear idea of what they should expect from the event – preparing them for a safe event and putting their mind at ease. 
Constant communication with your venue can also ensure that everybody stays abreast of what measures are being taken on site and what is expected from everyone involved – ensuring that everyone arrives to your event prepared for a safe and secure experience.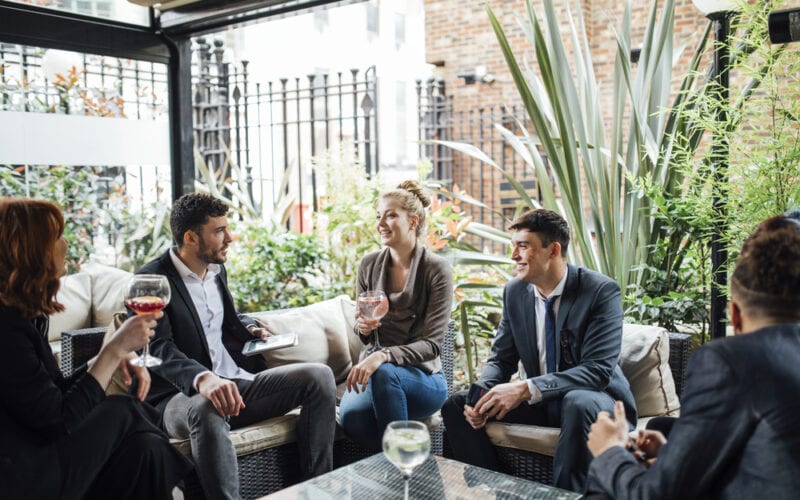 Consider alternative event formats
It isn't feasible to completely rearrange some events. For example, gala dinners and awards ceremonies are not really the kind of event that could be easily reconfigured without losing the main appeal of the event. However, the ongoing advances being made in relevant technology means that there are a lot of alternative formats available to event planners in 2020 and beyond. 
Event technology such as live streaming and video conferencing has made it easier than ever to hold virtual events – something we're sure many of us have experienced during the COVID-19 pandemic. Live streaming and video conferencing enables you to connect attendees across the globe without them even needing to leave their home. 
While the benefits of face to face and personal events are too significant and too many to be entirely replaced by virtual events (which bring with them issues such as connectivity and lag), it's certainly the case that event planners looking ahead from 2020 may want to consider making use of newer event technology. 
Hybrid events certainly look like becoming a core part of the event industry in future years, with live face to face events being streamed to remote delegates with the option for talks being held via video conferencing. 

Work with a venue finder that will match you with COVID-secure venues
There's a lot of responsibility to take on when preparing to manage and host an event in 2020 and beyond. The effects of COVID-19 are likely to be long lasting, and the event experience will have to be adjusted to cope with this. Of course, one of the best things you can do as an event planner is to simply choose a trusted venue finder to work alongside. 
Since the coronavirus lockdown has begun to be eased here in the UK, event planners have chosen Absolute Venues for our commitment to helping prevent the spread of COVID-19 while we continue to perform our work and deliver our clients a phenomenal service. What are we doing to help make your event management easier and safer? Well, we're currently only working with event venues that we know to be COVID-secure and that are taking steps to protect their attendees during any event they host. 
During the COVID-19 pandemic, the team here at Absolute Venues has chosen to make sure that we only work with venues that we know are taking measures such as the following: 
Improving their hygiene standards and procedures

Making sure that thorough and plentiful sanitisation is available throughout

Installing sanitiser stations that are available for both venue employees and attendees

Taking measures to maintain official social distancing requirements by limiting capacity, encouraging spacing and generally reducing contact between both guests and staff

Ensuring that all necessary PPE is available and accessible wherever it is appropriate – including gloves and facemasks. 

Making certain that handwashing facilities are accessible and numerous throughout the venue

Supplying both event attendees and staff with all the latest official guidance and advice on the COVID-19 situation from the government
The event industry has been and will continue to feel the huge impact of the global pandemic for some time to come. While nobody can read the future, here at Absolute Venues we are completely committed to working with venues that are taking all the right steps to help event organisers make their event safer. 
Some of the hotels and venues we are working with have introduced measures such as increased cleaning and disinfecting, enforced social distancing, protective barriers and sanitisation stations, improved air circulation and more. 
Of the venues we work with, some of the best extra measures we have seen taken include things such as the production and distribution of informative welcome packs for guests, express check-outs, regular temperature checks for staff, the introduction of card-only payment, social distancing, special dining measures and more. 
Get in touch with Absolute Venues today 
Interested in working with Absolute Venues for finding a COVID-secure event venue for your event in 2020 and beyond? Please don't hesitate to get in touch with us – we're always on hand to chat about how we can help you! Helping to deliver an amazing event experience is our passion here at Absolute Venues and we are committed to helping our clients work with safe and secure venues through 2020 and beyond.