When Christmas time rolls around in the office, there's one thing all employees look forward to: the Christmas Party! During the festive season, Christmas party venues are in high demand for corporate partygoers across London.
Fortunately, we at Absolute Venues have years of corporate event expertise that we have put to good use in this article, enlightening our hardworking readers as to the best Christmas party venues in London!
Read on for more tips about the top Christmassy corporate events out there, and the best location for your festive celebrations.
How to plan your Christmas party
To ensure your corporate Christmas party goes off without a hitch in London, plan well in advance – even if this means starting a list of your party requirements in September! Consider planning your Christmas event as follows, for an unforgettable experience.
First, you should outline an appropriate budget for your private party: how much does renting the entire venue cost? Do you want a choice of party packages or the option for private dining? Whatever the necessities are for your celebration in the capital city, budget for them wisely.
Second, don't forget to choose a good date! Employees take their holidays at different times of the year, and this can make arranging a Christmas party difficult. Proposing different alternatives for the party date is the right method to cater to all of the employees in your company.
During the planning process, you should also select a theme for your party. Themed parties are so much fun! Consider a carnival-inspired celebration as is popular for many countries around Christmas time, or commit fully to the traditional festive theme of Santa Claus and snowmen.
Contact Absolute Venues today to organise your next Christmas party!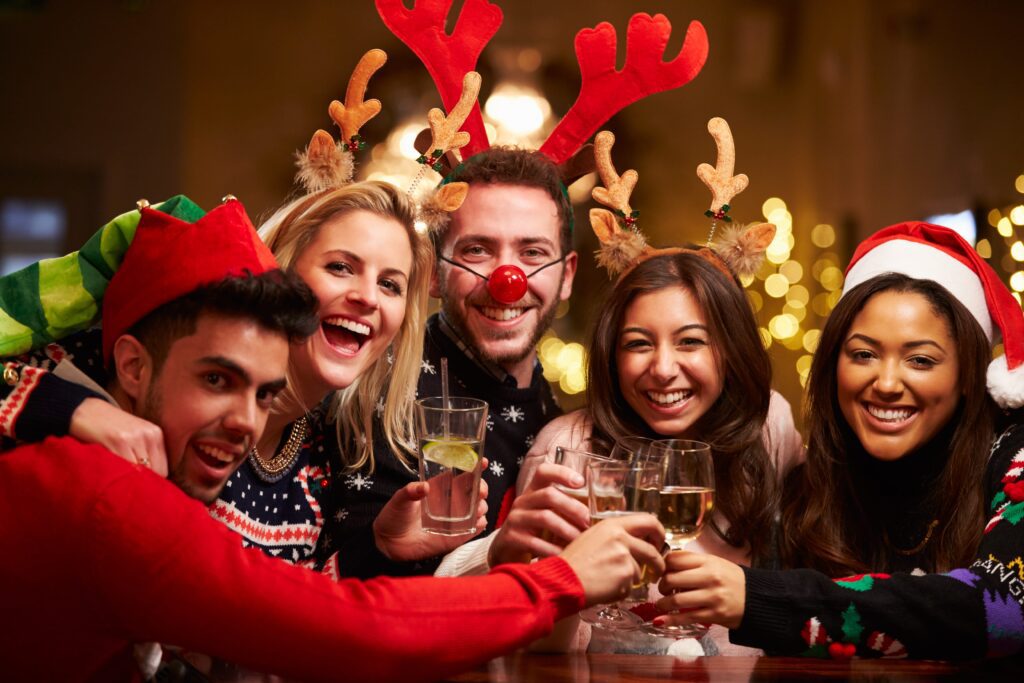 What are the best Christmas party venues in London?
London is a big, big city. As such, it can be hard to choose the best Christmas party venue from so many exciting event spaces!
So you don't have to worry, we have chosen three of the best Christmas party venues in London to help you narrow the list.
Searcys at The Gherkin is an events venue the provides, class, sophistication, and breathtaking views across London – it's the perfect place to celebrate the festive period with your friends and colleagues!
Serving exquisite food and the finest beers, wines, and cocktails, we're sure that there will be something for every guest at Searcys at The Gherkin! Get in touch with our team to learn more about the flexible Christmas party packages available at this iconic London venue today!
This Grade II listed building has been part of London's history for almost 100 years and is now one of the city's premiere events venues for conferences, weddings, and Christmas parties.
At BMA House, you and your guests will be greeted by stunning architecture and history galore between the gorgeous buildings and the stunning botanical garden that sits just outside the window.
With in-house catering available on-site, BMA House offers you a simple, yet elegant approach to Christmas party planning!
But it's not just the period features that guests love at BMA House – there's also a plethora of up-to-date technology features that make this the ideal venue for mixing business and pleasure.
The National History Museum is famed for its superb exhibits and eye-catching attractions, but did you know that it's also one of the city's most spectacular events venues for a Christmas party in London?
There are a couple of different events spaces as the museum, catering to groups of all sizes perfectly – from the glitz and glamour of Hintze Hall to the totally unique setting of Fossil Way and Earth Hall, we're sure the National History Museum will help you to give your employees and colleagues a night that they'll never forget!
Give us a call today to discuss Christmas party options at the museum!
Perfect planning takes the stress out of your events
Perfect planning takes the stress out of your events, allowing you to make the most of – what should be – an unforgettable experience. Bearing this in mind, we always advise corporate clients to get their venue booked as early as they can – with us, even for somewhere as busy as London, it couldn't be any simpler.
As it stands, Absolute Venues has a strong and reliable history as an easy-to-use events planner. From cocktails to panoramic views of London, Absolute Venues takes your priorities and finds them in the ideal event venue for you. There's no easier way to guarantee a successful party, as choosing the incorrect festive venue is a major reason why many parties go south!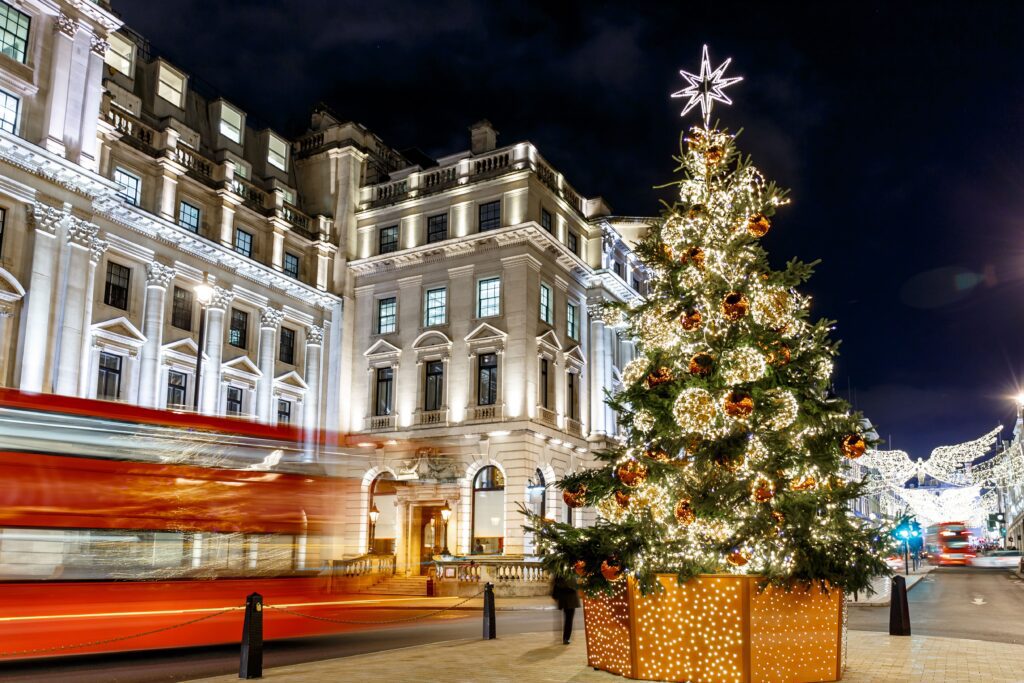 Christmas in London: Things to do around your event
Although you've already sorted out your Christmas party venue in London, there are many things to do around your event that we'd highly recommend! London is a bustling hub of festivities at Christmastime, and there are so many beautiful spaces outside your event that you must explore.
Have a wonderful time in the city by touring the famous Christmas lights in an open-top bus. You and your guests could spend some time in London's Royal Parks, as they remain open throughout the festive season.
There are also many Christmas Day services at St Paul's Cathedral, which would be a beautiful visit! We highly recommend including a trip to one of London's gorgeous ice-skating rinks before your event – a brilliant team bonding activity.
Use Absolute Venues as the perfect events planner
It goes without saying that often the most stressful part of hosting a party is finding the right space for your celebration – one that lives up to all your expectations but also meets all your needs and requirements. Absolute Venues takes the stress out of event planning by covering this aspect entirely.
Conferences, seminars, receptions and dinners: Absolute Venues does it all and more. Most impressively, Absolute Venues can access exclusive spaces you may otherwise be unable to enjoy. You can even benefit from exclusive prices due to our longstanding partnerships with premium venues. Companies frequently use Absolute Venues to great effect, and we can guarantee a corporate event that runs without a hitch.
Finding the perfect venue for your Christmas party in London has never been easier! Use Absolute Venues as your go-to venue finder service, today.