Christmas is not just a time for giving, but it's a time for hosting events. The festive season is one of the busiest times of the year for event planners like ourselves, with everything from office Christmas parties and Christmas markets to carol concerts and Santa's grottos filling the holiday calendar.
With so many events taking place around Christmas, it's important that you make your event stand out. Here are 10 tips on how to throw the perfect corporate event this Christmas.
Christmas decorations
It wouldn't be a Christmas event if you didn't deck the halls! Christmas parties and decorations go together like Santa Claus and elves. Christmas trees, Christmas wreaths, tinsel, bunting, mistletoe, candy canes, fairy lights, snowmen, reindeer, crackers… the choice of Christmas decorations at your disposal is endless. Don't be afraid to go all out — the more Christmas decorations, the merrier!
Festive food
If there's one thing we all love about Christmas, it's the food — and the same needs to be said about your Christmas event. If you're hosting a swanky Christmas party, you'll probably want to serve up a three-course Christmas dinner with all the trimmings. If your event is a little more low-key, on the other hand, you might just need some festive-themed nibbles like pigs in blankets and yule log. Whatever type of food your Christmas event calls for, it's important that you put time and research into finding a good catering service. Don't forget about catering for different dietary requirements like vegans, nut allergies and gluten intolerances, either.
Free-flowing drinks
If there's one time of year when people like to enjoy a drink and let their hair down, it's at Christmas. If you're hosting a work Christmas party, make sure you have plenty of drinks on tap for your guests. You can opt for a classic bar selection (beer, wine, spirits) or keep things Christmas-y with seasonal options like mulled wine, bucks fizz, snowball cocktails and Christmas punch. If your budget is big enough, an open bar is a great way to keep the festive spirit (pardon the pun) flowing.
Give your guests gifts
Christmas is a time for giving. As a host, a Christmas event is the perfect opportunity to play Santa Claus and welcome your guests (or send them home) with a small gift. This will not only put a smile on your guests' faces, but it'll serve as a memento and help them to remember the night. You could even sneak in some self-promotion by giving your guests or delegates a free sample or preview of your product as an extra gift.
Find the right venue
This one's a little more boring and practical we're afraid, but it's nevertheless important. Whether you're throwing a lavish Christmas party or a small, after-work get-together, you need to find a venue that suits your event. Can it accommodate your number of guests? Does it have adequate facilities (like enough bathrooms and disabled access)? Does it offer the right atmosphere for your event? Is the location easy to get to? Ticking all of these boxes is crucial to the success of your Christmas event. Absolute Venues' free venue-finding service takes care of this for you.
Choose the right music
Jingle all the way! Nothing gets people in the festive spirit like Christmas songs, so it's only right that your Christmas event is paired with an appropriate soundtrack. However, some of your guests might be sick of hearing nothing but Christmas songs on the radio, so it's worth mixing up the party playlist. After all, everyone loves a good boogie at Christmas. What better excuse to burn off some of those excess Christmas calories?
Decide on a dress code
A dress code is a great way to enhance and elevate the theme of your event while bringing people together. When deciding on a dress code, it depends on the nature of your event — if you're throwing a swanky Christmas party, it makes sense to go with a black tie and gown dress code. Or, for a more informal event, you can keep it fun and festive with elf costumes and Santa outfits. Just make sure your guests are fully aware of the dress code well in advance!
Make sure there are good transport links
Helping your guests get to and from your venue should be on the checklist for any event, but it can be even more crucial when it comes to a Christmas event. Let's be honest, people tend to get pretty drunk at Christmas parties! So it's important that your venue/location has good public transport links, such as trams, buses and trains. You might want to consider arranging a taxi service to ensure your guests get home safe and sound.
Hire a professional photographer
You're throwing a Christmas party. People are dressed up. The halls are decked. Festive spirit is in the air. Hiring a professional photographer to document your event will give your guests memories they can cherish — or better yet, share with their friends and followers on social media.
Hire a Santa Claus
Because why not?!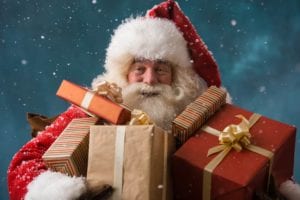 If you're hosting a Christmas event, let Absolute Venues find the perfect venue for your event. With an extensive directory of over 160,000 venues and hotel groups worldwide, our team of experienced event planners will make you a shortlist of the most suitable venues based on your specific needs and criteria. Our service is completely free, and our strong industry connections mean we can negotiate a competitive price for your chosen venue.
To take advantage of Absolute Venues' free venue-finding service, fill out our enquiry form or get in touch with us today.