Awards season is in full swing. Between the Oscars, the Grammys, the Emmys and the BAFTAs, 'tis the season when all the big names from the world of entertainment get glammed up, rub shoulders with one another and celebrate the biggest achievements of the previous year… while the rest of us endlessly debate the winners and losers at the water cooler the next morning.
Hollywood isn't the only place with glitzy award ceremonies, though. Every year, the UK hosts hundreds of awards show celebrating the achievements of businesses, organisations, charities and individuals across various sectors. From high-profile ceremonies to smaller, industry-specific events, awards shows are a big deal in the world of corporate events.
In the spirit of awards season, here are five tips on how to throw an amazing corporate awards event.
Find the right venue — The venue is one of the biggest factors when it comes to determining the success of your event. First and foremost, you need to find a venue that will comfortably accommodate all of your guests. You also need to factor in a seating arrangement, the stage and any AV, lighting or technological support. It's equally important to find a venue that matches the mood and atmosphere of your event. Awards ceremonies are glamorous affairs, so you'll want to find a venue that's just as swanky and stylish as your guests' outfits.
Hire a high-profile host — This is the person that will carry your event and set the tone for the night. Think of Ricky Gervais at the Golden Globes or Chris Rock at the Oscars. You want to hire someone who's funny, charismatic and engaging, and isn't afraid to lightly roast the audience. Hiring a high-profile host will also add star power to your awards ceremony.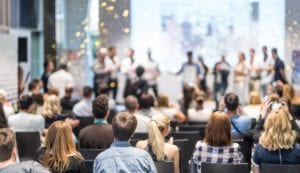 Elevate the entertainment — Simply reading out the names of winners and nominees all night long will be boring. Break the ceremony up by sprinkling in some entertainment, such as a dance performance, musical performance or a stand-up comedy set. Music, video, lighting and technology should all come together to create a spectacle. If you really want to wow your audience, take advantage of the latest technology with things like reflection mapping.
Choose your judges — Find judges with integrity, expertise and experience within the industry. Are they qualified to be judges? Are they known and respected? Do you trust them to be fair, honest and impartial? Will their name add prestige to your awards show? You might want to consider implementing a voting system if your judges don't arrive at a unanimous decision. Also, incorporating a "People's Choice Award" where your guests can vote is a great way to make your audience feel more engaged and involved with the event.
Roll out the red carpet — Literally. It's an awards show, everyone's glammed up and ready for a good night, so why not let your guests make the most of it by installing a red carpet? You can also hire a professional photographer to capture memories that they'll be able to keep and cherish forever – or better yet, share on social media and raise awareness of your event.
When it comes to finding the right venue for your event, look no further than Absolute Venues. With a team of expert event planners and an extensive directory of over 160,000 venues across the UK, Europe and worldwide, we're here to find that perfect venue that will make your event a successful one.
Send us your brief by filling out our event-planning form, or get in touch with us on 0161 327 0938 or at [email protected].