Attending and hosting events is an integral part of being in the corporate world. They offer an opportunity to share information, network and even celebrate. Whether the attendees are from within or without the organisation, there is always a need to ensure that the setting is just right and the participants enjoy themselves.
Finding the right venue, therefore, becomes vital. With thousands of event venues spread across the country and much more to be found in Europe and beyond, it can be mindboggling to have to work out which one is most suitable.
This is where Absolute Venues comes to the rescue. As an elite venue finder service, we have connections to over 160,000 venues across the world and can help in matching you to the right setting, giving your event everything it needs to be a huge success. For many organisations, it may seem a waste of resources to have to organise an event, but there are several significant benefits that cannot be ignored. The best part? When you choose Absolute Venues, we'll find your ideal venue for you – completely for free! With our amazing service, we can offer huge savings for anyone organising a corporate event. 
Benefits of Organised Events
These are just some of the ways corporate events can benefit businesses, offering the potential for a greater return than the investment. Let's look at some of the events that Absolute Venues cater to that may be worth considering in the future.  
Corporate Events Covered
Away days provide employees with a change in environment where they can relax, gain a new outlook or even avoid distractions as they work on a project. Christmas parties are another opportunity for staff to relax, bond and receive acknowledgement of their achievements. Great for encouraging company loyalty and motivation, they are a must.  
Seminars offer a setting customised to facilitate learning and sharing of information. Conferences, on the other hand, encourage and enable discussion on particular topics. Networking events provide a great opportunity to mingle with peers in the same profession, establish contacts and even arrange deals. All these events often require some level of engagement on the part of attendees. 
Business meetings can usually be attended at an organisations offices, but in cases where delegates from other branches are coming in, or attendance by the entire staff is required, space may not be sufficient. A suitable venue will need to be found to comfortably accommodate such numbers. 
With business lunches, there is a  need to provide a venue appropriate to discussion without the noise and bustling that comes with most restaurants. With Absolute Venues, you get help finding the best ambience and facilities.
Team building events require careful organisation so as to achieve the goals set out. They are good for building cohesion within teams, giving employees a break from hectic work, and improve productivity. Finding a suitably set up venue with facilitators is ideal. 
Product launches help to introduce the latest offerings to the market. With the right backdrop and arrangements, you can impress potential buyers and the press. Gala Dinners are another opportunity to launch products and service, or simply show appreciation to valued customers and staff.  
Another way to promote the brand across different locations would be roadshows. These require careful planning and timing due to their extensive nature. Serious thought as to the venues is also needed so visitors can easily get around and enjoy displays and demonstrations. 
Here at Absolute Venues, we also find venues for a range of other corporate events. This includes galas, business and corporate dinners, executive retreats, trade shows and expos, board meetings, appreciation events, company milestone events, charity events, incentive trips, and much more!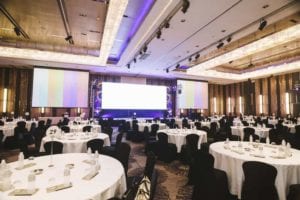 Why Choose Absolute Venues
Variety of Choice
Having established contacts with over 160,000 venues around the world, Absolute Venues is the perfect provider to help in making the best choice possible. We can match your needs and budget to suitable venues and recommend top choices. This eliminates the headache of having to go out hunting down locations yourself. No matter the size of the facility you need or variety of amenities desired, your choices are only limited by your imagination.  
Work with the Absolute Venues team today to find your perfect venue.
Save A Lot Of Time and Money
When you work with Absolute Venues, you are assured of getting the best rates possible. Many have been surprised by the quality of venues they qualify for, thanks to the arrangements negotiated on their behalf by Absolute Venues. With strong industry connections, Absolute Venues is also the ideal helper when you have limited time to find the right venue. We can help you find the ideal location in the shortest time possible. We can help you to make huge savings on both your time and your money while organising an event and looking for a venue – and we do it for free. 
Professional Event Organising
Organising a major event can be stressful with many issues to be taken care of. From ensuring the projector works to sampling the menu, there are many tiny yet important details that need to be taken care of and coordinated. Finding the right venue that accommodates all these needs is important to avoid mishaps and embarrassments. Finding a venue with the right standard of service is what Absolute Venues specialises in so your event goes off without a hitch. 
It's Free
The professional services rendered by Absolute Venues is totally free. In fact, even with a proposal having been submitted by our team to you, you are under no obligation to take up any of the offers. Whether is a single business lunch or summer-long roadshow, we can provide you with amazing venues and deals to choose from, all without taking a penny out of your pocket. On top of the fact that we'll save you both time and money by finding your event for you and securing the best deals, there's no reason to hesitate – get in touch with us today to discover how you can make huge savings with Absolute Venues today!