Looking for the best Christmas party venues in Manchester? We've got you covered!
Manchester has long been a thriving hub of corporate activity. Today, the Greater Manchester metropolitan area — comprising Manchester as well as Bolton, Bury, Rochdale and a string of other boroughs — represents the UK's second-largest city region economy after London.
This makes Greater Manchester a great place to not only work but also hold celebratory get-togethers for local staffers. As far as yearly occasions go, Christmas especially warrants a work party — not least because Manchester itself is resplendent in appropriate venues.
However, making the most of a Christmas party in Manchester would require you as an employer to prepare well in advance so that you can secure a venue suitable for your needs.
So, what makes the perfect Christmas party venue?
Essentially, when we say 'your needs', we also mean 'your workers' needs' — as you can't expect the event to be well-received unless you prioritise those particular requirements.
The choice of venue is a massive factor here, as people could have to immediately rule themselves out of attending if it would not be sufficiently easy for them to travel to it.
With a bespoke event, you can also ensure that the venue is decorated in an appropriately festive fashion – even throwing some of your brand colours into the mix if you want to create a fun photo op – and that music is chosen in accordance with attendees' tastes.
The best Christmas party venues in Manchester
As Manchester is alive with activity right through the year, you can easily imagine how exuberant the North West England city is in December. Indeed, there is an immense variety of Christmas party venues in Manchester, making it easier for you to plan a pleasingly memorable event.
So, whether you want your company's own Yuletide party to be subtle or extravagant, serve posh beverages or soft drinks and take place in a room with a banqueting style layout or cabaret style layout, you can find an apt events space in Manchester.
Manchester city centre's festive party venues include…
Manchester Central
Befitting its name, Manchester Central is located in the heart of the city. This convention centre can be a good choice for a particularly glamorous event, as the drinks you can include on the festive menu for the occasion include canapés, beers, wines and spirits.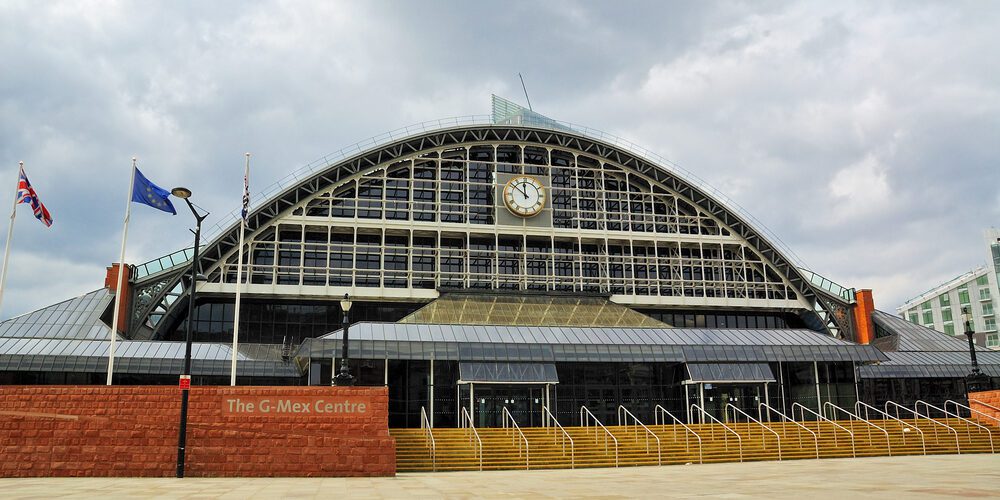 Dive Bar & Grill
There's a lot of fun to — ahem — dive into at this establishment. Choosing Dive Bar & Grill, in the bustling Northern Quarter, as the setting for your Manchester Christmas party will include an evening of succulent drinks, a three-course meal and good opportunities for dancing!
Mercure Manchester Piccadilly Hotel
This four-star hotel is just a few minutes' walk away from Manchester Piccadilly train station and makes an especially luxurious backdrop for a festive event. You can enjoy dining here at the Mercure Manchester Piccadilly Hotel while taking in a stunning panoramic review of the city.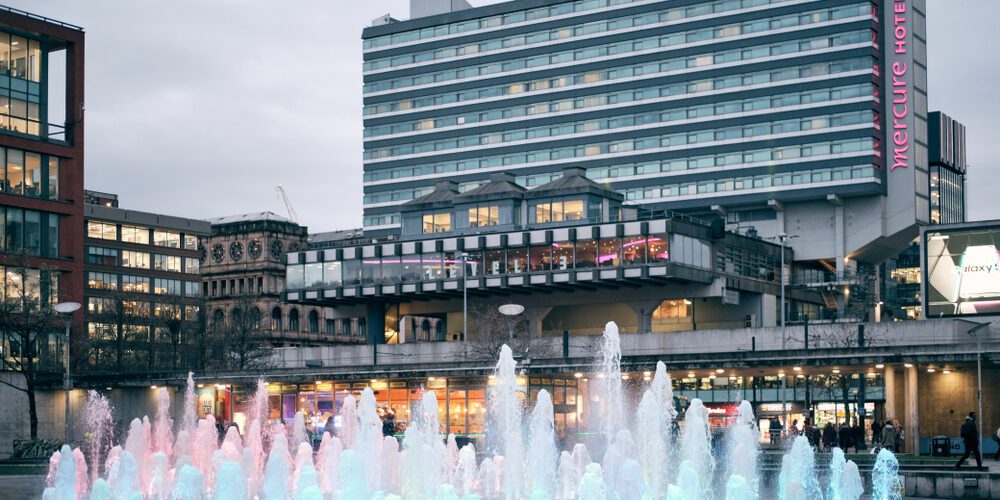 Marriott Manchester Airport Hotel
Its close connection to the airport makes Marriott Manchester Airport Hotel — sited in Ringway, on Manchester's southern border — an especially fitting place to hold Christmas events where you would be eager to welcome any overseas employees your business might happen to have.
Park Inn by Radisson Manchester City Centre
Given its convenient location near Manchester Victoria train station, Park Inn by Radisson Manchester City Centre shouldn't be too hard for many members of your team to reach. Each of these people can also be welcomed by being treated to a cocktail, beer or glass of wine.
The Sheridan Manchester
You might be interested in booking your group a place at The Sheridan Manchester's Moulin Masquerade Ball, where everyone can be spiritually transported to the Montmartre streets for a night of Parisian burlesque. The event's drinks package includes delicious homemade canapés.
The Pendulum Hotel
From Manchester Piccadilly station, your workers would only have to walk for a further five minutes to reach the Pendulum Hotel. This city-centre venue is ideal for Christmas celebrations ranging from private, shared party nights to more bespoke events.
The Midland Hotel
If your workers like their drinks shaken, not stirred, The Midland Hotel — a four-star venue also situated near Manchester Piccadilly station — offers your company a Spectre-cular opportunity to celebrate the festive season in style, with Bond theme music and a live party band.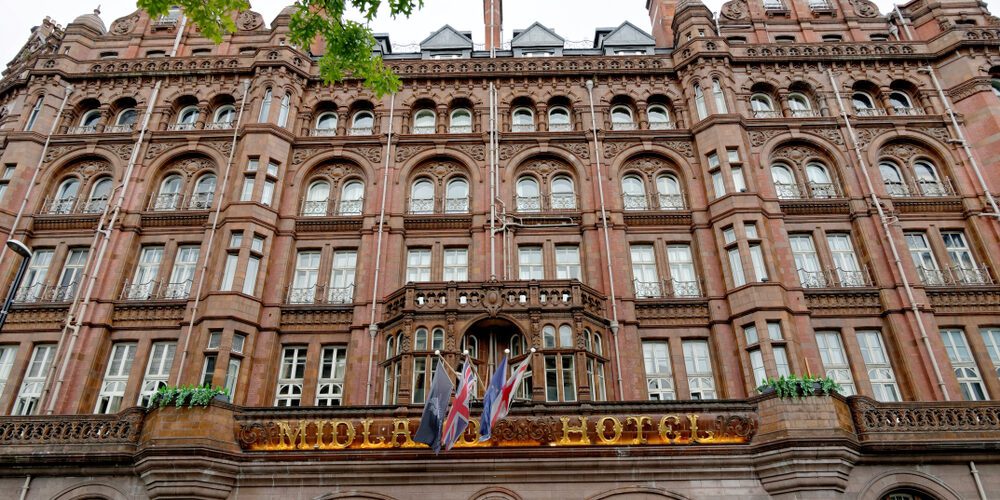 The Fitzgerald Manchester
Whether you want to organise an intimate get-together for just 4-8 people or something larger-scale for 40-60 people, The Fitzgerald Manchester offers a function room with a seated capacity to suit. The venue can even accommodate events with a standing capacity of up to 110 people.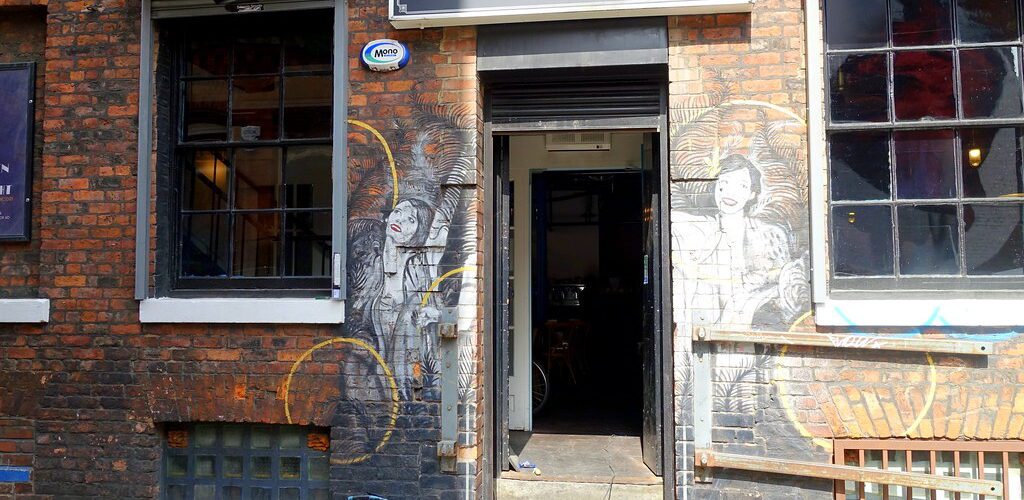 The Sawyer's Arms
If you would like a banquet seating style layout for your corporate Christmas party, this particular need can be met at the traditional pub The Sawyer's Arms. For each event held there, this establishment offers as many as 47 seats and a maximum standing capacity of 50 people.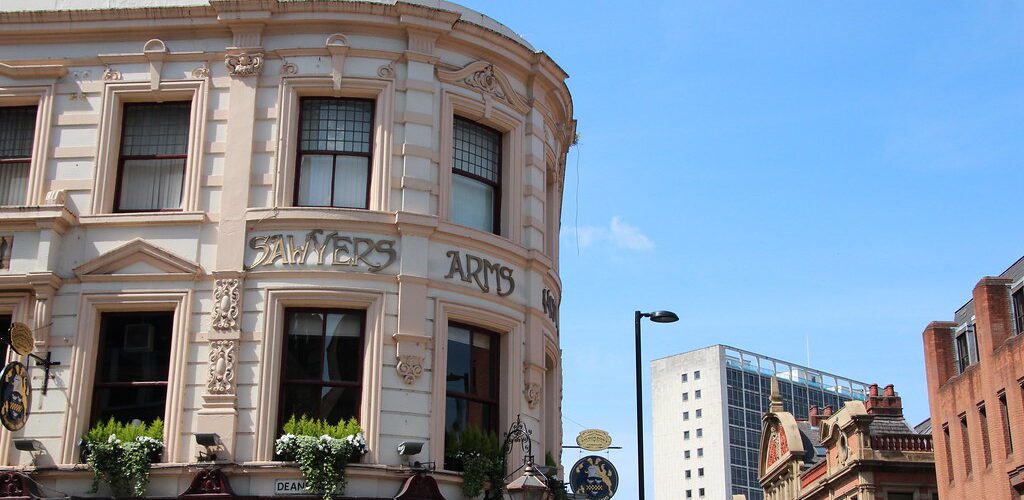 Things to consider when planning your Christmas party
It would be helpful for you to consider a few potential dates for the big event, as this would give you some leeway when attempting to book a venue. You should also watch out for promotions that many Manchester businesses run for the festive party market.
A Christmas party package can potentially cover food, drinks, decor and entertainment — any of which you could, of course, instead source as separate services. However, while this could lend you more flexibility, packaging multiple services together might save you a significant amount of money.
Make sure you are inclusive and think of every invitee
The point of inclusive party nights is to ensure that no one invited to the event gets the impression that they are seen as an afterthought. So, you want everyone at the event to feel free to enjoy it as they see fit, without being pressured to do certain things just because they might be dubbed 'fun'.
There should be no shame, for example, in attendees restricting their alcohol consumption on the night. According to research, teetotalism has become more popular among the UK population, especially younger segments.
Christmas parties should also be scheduled in a way that would make it easy for all of the invitees to turn up. So, while evening events might be traditional, you could think about holding your own Christmas party at lunchtime or even during working hours.
Otherwise, any employees who have childcare or other out-of-work responsibilities could, for practical reasons, be denied a chance to join in with the jubilant proceedings. For example, these people could struggle to find a babysitter or spare enough money for transport to the event.
Double-check your team's dietary requirements
Manchester is renowned for its culinary scene, and you won't have to look far for a local venue that offers a special festive party menu. Nonetheless, some of the invitees might have specific dietary needs — such as dairy-free, gluten-free, vegetarian or vegan dining.
Fortunately, we work with elite caterers who can travel out to Christmas party venues and accommodate any dietary requirements. Alternatively, you could arrange for us to find you a private dining space where your event's attendees are offered various fine dining options.
Finding the right festive party venue in Manchester
You need to think long and hard about where to hold your Manchester Christmas party — and give yourself enough time to do that thinking. To help yourself in securing the desired venue for the right time, you should book that Christmas party venue up to a year in advance or even earlier.
That means you should start researching potential party venues earlier still — or, at least, task someone else with doing so. Once you have an array of Yuletide party ideas, you could share those with our team so that we are able to peruse Manchester party venues on your behalf.
Contact Absolute Venues to help you pick the perfect venue for your next Christmas party.
Christmas travel into Manchester city centre
Ideally, the venue you do eventually settle on will be near where all of the intended guests live — or, failing that, have good public transport connections. However, you also need to account for the usual hustle and bustle of the festive season.
In other words, you need to make sure that all of the invitees who agree to attend the event should be able to get to it for its official start time. Here are good examples of transport these people could opt to use to get themselves into Manchester city centre for the big occasion.
Buses
Manchester's bus network is one of the UK's busiest, with services continuing to run long into the night. So, even if some members of your team need to book a hotel in Manchester for the night, they should easily be able to travel by bus to a late-hours event in the city and back to the hotel afterwards.
Trams
Greater Manchester is covered by Metrolink, one of the UK's most successful light rail networks. Metrolink trams between Manchester city centre and a string of Greater Manchester towns — including Altrincham, Bury, and Rochdale. Though travellers can easily look up the Metrolink timetable, services are so frequent that this may not be necessary.
Trains
Greater Manchester has an extensive railway network. The Manchester station group — as it is known — in Manchester city centre consists of the following train stations:
Manchester Piccadilly
Manchester Oxford Road
Manchester Victoria
Deansgate
Hence, people can travel to and from the city centre for your event with ease.
Taxis
In addition to all of the above means of getting around Manchester, there is — of course — the option to journey by road. Any employee of yours who confirms their intention to come along to the festive party could go about booking a Manchester taxi service. In preparation, they could consult TripAdvisor's list of the best-rated taxi companies covering Manchester.
How can Absolute Venues help you to plan your Christmas event?
Here at Absolute Venues, we are highly experienced in helping corporate clients to find suitable event spaces for not only Christmas parties but also conferences, seminars, receptions and training courses. We can research various Christmas party venues in Manchester for you.
Our venue finder service is completely free to local businesses and will see us present your Greater Manchester business with a list of local venues to choose from. It's easy to use our free Manchester venue finding tool to specify exactly what kind of festive event space you seek.
With Christmas planning, it's especially important to plan ahead before all of the best venues get inundated with requests. Get in touch today to begin planning yours – you can call us on +44 (0)161 929 4948 or drop us an email at [email protected].