Business meetings are an opportunity to get together with your team, network and share information. Yet hosting a meeting can often be stressful and time-consuming – there's so much to think about, from the venue to the catering.
Whether you're hosting a small business meeting or a larger event, here are five things you should definitely consider.
1. Venue and Facilities
The venue is the number one most important thing to consider for any business meeting. It may be that you're holding an internal meeting at your offices, which is great! But what if you're meeting at an external venue, that people will have to travel to get to?
Finding the perfect venue can be a challenge. It needs to be easily accessible (ideally by public transport), have the right amount of space, be equipped with all the facilities you need – and of course, it needs to be affordable!
Absolute Venues offers a free, professional venue-finding service, and we have access to over 160,000 venues across the UK and Europe, so we can help you find the perfect venue for your meeting, however big or small. Finding a venue with the right facilities can prove challenging, too – for example, you may need high-speed internet or audio-visual systems.
Here at Absolute Venues we can search our network of venues to find the one with all the facilities you need, whether you're looking for a boardroom for a company meeting, projection equipment for an important client presentation or video conferencing equipment for a conference call.
2. Your Budget
Budget is often the factor that puts the most constraints on your business event, affecting your catering and venue choices. By using a professional venue-finding service like Absolute Venues, you can maximise your budget, leaving more in the pot for catering and meeting materials.
It's important to consider your budget carefully, ensuring you've factored in all the hidden costs of your meeting — such as venue hire, heating and lighting, lunches or refreshments, transport, and so on. You may also need to think about hotel or accommodation costs if you're hosting your business meeting at an external venue. This is something we can help with, too.
Discuss budgets for your next business meeting with Absolute Venues today.
3. Catering
These days, there are more choices than ever before when it comes to catering for business meetings and events. Vegan and vegetarian caterers offering plant-based menus are becoming increasingly popular, which can help organisers to reduce the carbon footprint of their meeting. But you'll find plenty of catering options for meat eaters, too.
As well as the cost of food itself, there's serveware such as plates, cups and cutlery to consider. It's always best to try and opt for recyclable, compostable materials or use reusable plates and cups if you're hosting your meeting in-house or have a catering company that will provide glasses and china.
4. Sustainability
When you're hosting a business meeting, sustainability may not be at the forefront of your mind. With climate change being such a pressing issue these days, hosting a sustainable meeting is important. You can start reducing the carbon footprint of your meeting by choosing a venue committed to sustainability, such as a hotel that has renewable energy or a conference centre with recycling facilities.
Taking it a step further, you can ensure you use recycled paper at your meeting, install LED lighting, use biodegradable serveware if you're serving lunch, and so on.
5. Time and Day
The final thing to consider is the time and day of your meeting. Generally speaking, Friday afternoons at 4pm or Monday mornings at 9am are not the best times for meetings, especially if you want everybody to be awake and alert! Avoid meetings before 9am (to give people time to travel) or after 4pm, when people may be tired. It's also a good idea to avoid scheduling business meetings right after lunchtime when your team members or clients may be feeling sluggish.
An optimal time for a business meeting is mid-morning or mid-afternoon, when we're at our most energetic and productive, and everybody will have plenty of time to travel to an external meeting venue, if needed. If your business meeting is going to take a long time, consider traffic congestion and public transport when planning timings, so you can (hopefully) avoid people being late or having to sit in traffic for hours once the meeting has finished.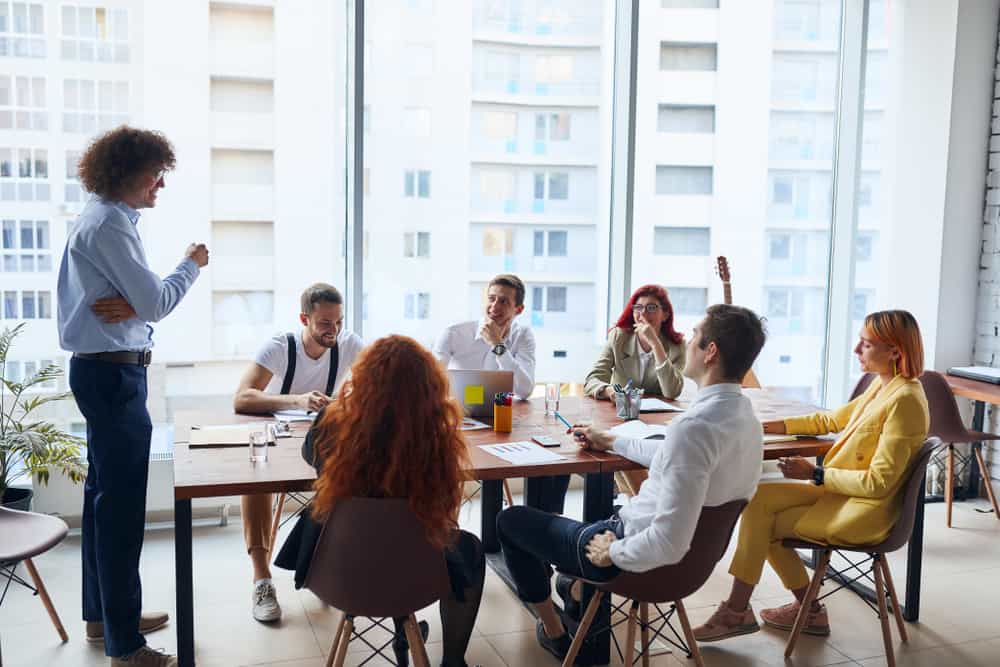 These are just a few things to consider when hosting a business meeting. If you need help finding the ideal venue with the facilities you need, why not get in touch with Absolute Venues? Our free, professional service will ensure your business meeting is a success while saving you time and money.